Meet Our Candidates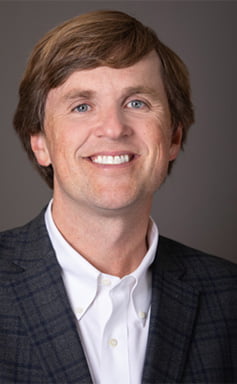 John K. Roberts
Roberts Real Estate, Inc
John K. Roberts is a Realtor and the Chief Financial Officer of Roberts Real Estate, Inc. John is a native Ocalan, a fifth-generation Floridian, and a third-generation Realtor. He earned a degree in Business from the University of Florida, an MBA from Rollins College, and a Master of Real Estate from the University of Florida.
After graduation, John moved to Jacksonville in 2007 where he began his banking career with The Jacksonville Bank. While at The Jacksonville Bank, John gained extensive experience in both consumer and commercial lending. In 2012, he joined CenterState Bank as a commercial lender where he had a very productive tenure focusing primarily on commercial real estate lending.
In 2015, John and his family moved home to join the family business. John is married to Molly Roberts and they have three children, John, Emma, and William. They are active members of Ocala's First United Methodist Church and are involved in a number of local charitable and cultural organizations. John currently serves on the College of Central Florida Foundation Board as well as the Advent Health Foundation Board.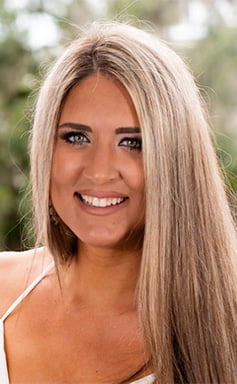 Kali Stauss
Stauss Law, PA, Junior League of Ocala
Kali Stauss Lourenco is the incoming president of the Junior League of Ocala and the owner/attorney of Stauss Law, PA. She was born and raised in Ocala, Florida and is a Florida Gator alumni. As president of the Junior League of Ocala, Kali gets to work with like-minded women who promote awareness and advocate for the many societal obstacles women and children face right here in Marion County. Junior League of Ocala is an official partner of the Marion County Literacy Council and supports the incredible mission and resources they provide like teaching individuals to read, write, obtain GEDs, and understand the English language! Did you know approximately 59,000 Marion County residents are living in poverty? Poverty rates are directly correlated to low literacy rates which directly impacts the community as a whole. Please help Kali with her goal of raising funds to assist the Marion County Literacy Council in the 2022 Kiss the Horse fundraiser!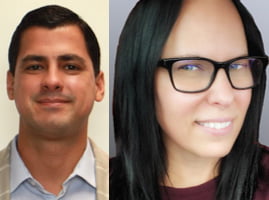 Leonardo Valdivieso-Torres and Mara Huston
USA Scientific
ABOUT LEO: For almost five years, I have been working for USA Scientific Inc. as the International Sales Manager out of their headquarters here in the great city of Ocala. Although I was born in Connecticut, I grew up on the beautiful island of Puerto Rico where I obtained my bachelor's in Biology-Biomedical Science at the University of Puerto Rico in Aguadilla. Later, I moved to New Jersey to pursue a PhD in Biochemistry and Molecular Biology from Rutgers University. Before joining the USA Scientific family, I was conducting studies in Hantaviruses at The University of Tennessee-Knoxville where I had the opportunity to carry out field studies in the Mbaracayú Forest Nature Reserve in Paraguay.
After participating last year in the Kiss the Horse challenge and earning fourth place and the honor of being the candidate with the largest number of unique donors, I have recruited people to join me to win this year's challenge, and I hope we all enjoy the fun and this great cause. The Marion County Literacy Council continues to have a positive impact in our communities in need in Ocala, and this makes me very happy and proud to participate in this event.
ABOUT MARA: I have been working for USA Scientific, Inc. collectively for almost 14 years. I began my journey at USA Scientific as a Customer Service Rep, then moved on to building our Technical Support department which includes pipette repair and calibration. From there, I currently hold the role of the e365 CRM Specialist. I have been passionate about what USA Scientific, Inc. stands for and the things they have done to support both the local community and researchers all over the world.
This is my first year taking part in this event and I am pleased to have this opportunity to help the Marion County Literacy Council. I look forward to having fun while supporting this impactful cause.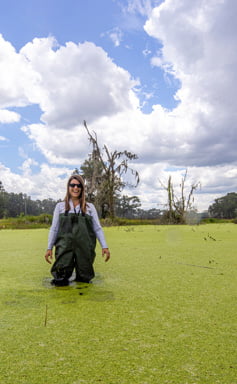 Rachel Fautsch
City of Ocala
Rachel Fautsch hails from Minnesota and has taken up residence in Ocala for the last 11 years. She works for the City of Ocala as the Water Resources Conservation Coordinator. Her work focuses on educating the community on threats to our water systems and the Ocala Wetland Recharge Park.
Rachel is thrilled to be participating in the Marion Literacy Council's annual Kiss a Horse fundraiser this year, as she full-heartedly believes in the mission of the MLC and knows they make a huge community impact.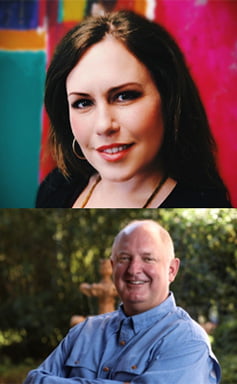 Rachel Gibbs and Thad Boyd
Boyd Mox Industrial Development
ABOUT RACHEL: Rachel Edwards Gibbs is the Founder and CEO of Mox Development. She is an entrepreneurial disrupter and challenger of the status quo. She currently oversees all functions of business at Mox, including strategic direction, development and acquisition, capital and investment performance, and partner relations.
Rachel is a veteran in the construction industry and understands the turnkey process necessary to deliver top quality products to market. Prior to the inception of Mox Development, she served as the Chief Growth Officer for Edwards Construction Services and she successfully led teams across the Southeastern United States for 15 years.
Rachel is married to John Gibbs and together they have two sons, Johnny and Waylon. John is a commercial general contractor. Their family shares many passions and interests, including Auburn football, live music, and spending time together in the mountains of Highlands, North Carolina. Rachel and John share a passion for golf; as John's family established the legendary Golf Channel with Arnold Palmer.
ABOUT THAD: Thad Boyd has led the Boyd Real Estate Group since its inception. Thad's local knowledge and relationships have made a critical impact on both our ability to navigate business in the area as well as a monumental impact on our community as a whole. Thad has several distinctions in his professional life including but not limited to being the youngest CEO of one of the 50 largest privately owned Florida corporations. He held this distinction at the age of 25 when he was given the reigns of Mark III Van Conversions. Under his and his father's leadership, Mark III became the largest Van and Truck Conversion company in the world. Thad and Julie have three beautiful children. Thad currently serves on the board of The Women's Pregnancy Center, Extreme Solutions, and Kimberly's Center.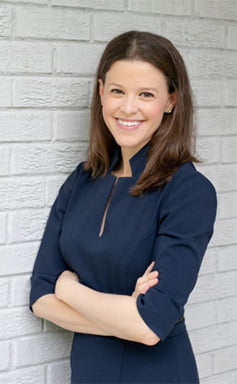 Sadie Fitzpatrick
Ocala Gazette
Sadie Fitzpatrick is an Ocala native. She is a columnist with the Ocala Gazette, using her column to explore the character and quirks that make Ocala uniquely wonderful and occasionally irksome. She has a background in marketing, communications, and event planning.
Sadie earned her Bachelor of Arts degree from Furman University and graduated with a master's degree in Mass Communications from the University of Florida.
Sadie currently serves on the Bourbon in the Barn gala committee for the Boys & Girls of Marion County and serves as a board member of the Advent Health Ocala Foundation. She is passionate about politics, literacy, and women's and children's issues.
Sadie enjoys spending time with her husband, Brian, their two children, and their Golden Retriever, George Bailey. She also enjoys reading memoirs and tackling interior design projects.
The Marion County Literacy Council is sad to announce their Executive Director, Summer Gill, is leaving after more than five years of service with the organization. The Executive Director's job position is now open to the public.
To view the job description and qualifications, please click the link below:
MCLC EXECUTIVE DIRECTOR JOB POSTING FINAL 2020
To apply, please submit the following materials:
(1.) A brief cover letter explaining your interest in the role (1 page);
(2.) An up-to-date resume (1 page); and
(3.) A piece or portfolio of work that highlights your experience in the area of fundraising and donor relations that can help the hiring committee understand more fully your approach to development work.
All materials should be submitted as attachments to a single email, sent directly to R.J. Jenkins—President of the Board of Directors of the Marion County Literacy Council—at arge.jenkins@gmail.com.
Click below to access the report
The 2nd Annual Beer & Bag Cornhole Tailgate for Literacy was a blast and very successful! Thank you to our sponsors, teams and all who made it possible.
Check out the photos from the event on FACEBOOK
MEET THE TUTOR: R.J. JENKINS 
There are some people who walk into your life and brighten it immediately. These folks make you smile, laugh, and look at life with a new perspective. R.J. is that kind of person for many of us here in Marion County. R.J. joined the Literacy Council team as a volunteer tutor in March 2017 and became a Board member for the Council shortly thereafter. R.J. serves as a curriculum designer for the Center for Veteran Transition and Integration at Columbia University in New York City, faculty coordinator at Webster University here in Ocala, and the founder of Pyxis Admissions, a boutique college consulting company. Read more about R.J. and why he chose the Literacy Council as vehicle for creating positive change in Ocala and Marion County.
R.J., please tell us a little about yourself?
I was a pretty bookish kid. I wasn't crazy nerdy or anything - I played sports and had friends and whatever - but I loved reading the way other kids loved playing video games. I used to smuggle Jane Austen novels into school and, when class would get boring, I would hide in the bathroom and read. Gross, I know. My love of reading came in handy in college, and I ended up pursuing doctoral work in English literature, because, um... I'm still not sure. People always ask me about my favorite book. It's The House of Mirth by Edith Wharton, a novel about super rich, super backstabby women who have nothing better to do than try to destroy each other socially. I mean, what's not to love, right? OMG it's so good.
Why did you decide to become involved in the Literacy Council?
Like most helping professions, teaching is a calling, and if you're called to do it, then it's tough to ignore that call. I taught as a graduate student at Cambridge and Harvard, and I taught when I worked as a dean at Columbia, and so when I relocated to Ocala almost two years ago, I knew I had to find a way to keep teaching. The Literacy Council felt like a wonderful way to continue doing what I love and help people at the same time. Also, teaching English to speakers of other languages affords me ample opportunity to feed my inner grammar snob. Like, it's literally my job to make sure that my students understand the difference between "there," "their," and "they're." Being able to nerd out shamelessly about grammatical minutiae is a real perk of the job.
In what capacity do you serve the Literacy Council?
I teach elementary, intermediate, and advanced ESOL classes. I also serve as a member of the Board.
What have you found to be the most rewarding part of serving at the Literacy Council?
The students. No question. Watching women and men work hard to become more capable, more confident speakers of English is incredible. As someone who learned to speak another language as an adult, I appreciate the time and dedication it takes, and the sacrifice it demands. I also know that learning a new language, especially as an adult, requires real humility, and a willingness to be vulnerable. What's going on in these classrooms is extraordinary, and I have so much respect and admiration for our students who have decided to enrich themselves, either by learning to speak, read, and write English, or by learning how to read. What they're doing takes more than just hard work; it takes courage.
Why should others care about Adult Literacy?
People should care about adult literacy for the same reasons they care about child literacy - because we know for a fact that quality of life is better for people who can read than for people who can't. We also know that people who can read are better able to contribute in meaningful ways to our community and to our economy, and so making sure that folks in Ocala and Marion County can read makes good economic sense as well as good ethical and moral sense. At the risk of sounding like the bleeding heart that I am, a community is only as good as it treats its least fortunate, most vulnerable members, and so I was thrilled to learn when I moved to Ocala that the Literacy Council - and so many other amazing organizations in town - are working hard every day to help folks who need it and are willing to work for it. A rising tide lifts all boats, and I see a lot of individuals and organizations out there trying to raise the tide here in Ocala. It's exciting, and I think it says a lot about what kind of a community we are, and what kind of place we aspire to be.
What other groups are you involved in?
I serve on the Associate Board of the Reilly Arts Center, and I work closely with the Historic Ocala Preservation Society. Both are amazing organizations full of caring, smart, super talented people committed to making Ocala an even better place to live, work, and play than it already is.
How has serving with the literacy council changed you, personally?
I'm not sure that my service with the Literacy Council has changed me so much as reminded me - acutely - of the incredible power of language. We live our lives in language: we do business in language, we raise our children in language, we conduct our relationships in language, we fight and we grieve and we fall in love... all in language. There is nothing outside of it; everything we do and say and even think is only possible because language makes it possible. Imagine, then... what must the person feel like who doesn't fully command that language? How frightening and frustrating and alienating must it be not to understand the language your life is written in? And how empowering must it feel to learn how to navigate - how to read and to write - in the language that makes up your whole world?
I'm reminded of these questions every time I teach. Literacy isn't just learning how to read and write. It's learning how to be - how to live - in a world made up of words.
What advice do you have for prospective tutors or volunteers?
Just do it. Come visit the Literacy Council and learn about what we do, and figure out how you can help. Maybe that's tutoring one of our English language learners one-on-one for an hour a week. Maybe it's helping someone earn their GED. Or maybe it's teaching someone how to read. Whatever it is, it will help, and it will make a massive, positive difference in someone's life. Seemingly small acts can make big impacts. Make your impact today.
9th Annual Kiss The Horse
Campaign for Literacy
Kiss the Horse is our signature fundraiser. This year we are excited to announce that the event is sponsored by Insight Credit!
This event is not only a great way to create community awareness about adult literacy issues in Marion County, but it also raises extremely critical funds to provide services to all adult learners who aim to improve their literacy skills. It is a "campaign" for literacy where prominent local business and community leaders campaign for the HONOR of KISSING THE HORSE for Literacy. The money will be collected from May 2018 through June 2018 and the candidate with the most money raised kisses the horse.
We are in the process of securing our candidates. Candidates can be a single individual or a team. Becoming a candidate is a great way to highlight your business. Candidates use a series of events or creative ways to raise money. Ideas for raising money include: Asking friends, family and colleagues to donate to your campaign; Obtain donations from companies, vendors, and clients; host a yard/garage sale; be bartender for a day; "Raffle" off a service for a day; Hold an event at your home or a local venue, etc.
Currently, our candidates include Doug Engle, Jim Ross, Tyla Kennedy, Heartlezz Ryderz, Stephanie Gonazlez, Billy Gilchrist, Blanchard, Merriam, Adel & Kirkland, and Charlotte Martin.
If you are interested in becoming a candidate, please contact Summer Gill at the Literacy Council (352) 690-7372 or summer@marionliteracy. Summer would be more than happy to sit down with you and come up with a great strategic campaign.
The celebration event this year will be hosted by Insight Credit Union on June 21, 2018 at 6:00pm. Insight is located at 2510 SE Maricamp Road Ocala, FL 34471.
Partners in Literacy: College Park Elementary
Over the course of the next few months, we will be introducing you to new partnerships the Literacy Council are building to more strategically help our community with its Literacy needs.
In January the Literacy Council began a wonderful partnership with College Park Elementary.  On Tuesday and Thursday evenings we teach an ESOL (English as a Second Language) class to the parents of the students who attend College Park Elementary.  The class of almost 30 parents are learning the basics of the English language such as understanding the difference between short and long vowel sounds.
34% of Marion County children under the age of five live in poverty. Researchers believe this is because most of those parents lack even the most basic of education. Although the school system offers children educational support, the parents are left to continue life without the proper educational support they need. As long as our school system is investing in our children, we need to equally invest in the parents of those children. Children returning to a home where a parent cannot read or speak English means a parent is unable to reinforce any educational gains made by a child. We all know a child's first teacher is their parent and this program will directly impact a parent while indirectly impacting the child thus hopefully breaking the cycle of low poverty and educational levels. A parent's level of educational attainment is a strong predictor of a child's success.  Partnering with schools is the best way to reach those most in need.
This current class will continue to meet through the summer and fall at the school after which most of the students will move on to a Level 2 understanding of English.  We look to add both a Level 2 class and another Level 1 class at that time.  Our hope is that this program will grow to include many other elementary schools in the community.  We would like to directly focus on low performing schools and low income areas of the county to fully impact those parents in need. Eventually, we will offer not only ESOL classes but GED and basic literacy instruction to the parents at the schools.  If you are interested in tutoring at the schools, please contact the Literacy Council to get set up as a tutor.
Event Breakdown: TIPS-Y for Literacy: A Celebrity Bartending Event
On March 8, Neighborhood Storage hosted a small, but a mighty fundraiser at Pi on Broadway for the Literacy Council. TIPS-Y for Literacy: A Celebrity Bartending Event utilized local celebrities as bartenders. All tips received were donated to the Literacy Council. Neighborhood Storage not only sponsored the event but also donated one free drink ticket for the first 100 attendees. Celebrity Bartenders included: Adam Woods, Summer Gill, Anthony and Olivia Ortiz, Angie Lewis and Mike Fallon. Each bartender added their own flair to the event.  Anthony and Olivia dressed the part while Angie Lewis hopped up on the bar (in heels, no less) to bring in hundreds of dollars from the Ocala Sunset Rotary who meet at Pi. The event was very fun, well attended and definitely will happen again.
We would be remiss if we did not mention our other sponsors, ZED ZED Eye Design who created all the print pieces for the event in kind and of course Pi on Broadway who not only donated the space but the use of all their bartenders for the event.  Everyone had a blast and we are thankful for our friends who came to show their support for our bartenders and the Literacy Council!  Please check out the pictures of the event on Facebook and keep a look out for the next TIPS-Y Event coming your way soon!
Become a Tutor and Help Change a Life 
"With as little as two hours a week, you can positively impact an adult learner's life," says Summer Gill, Executive Director of the Marion County Literacy Council (MCLC).
"We are seeking more volunteer tutors to meet with an adult for a weekly 1 ½ hour session or two 1-hour sessions. Tutors are needed in Language Arts (reading, writing, and grammar), Math, GED preparation, and English for Speakers of Other Languages. Bilingual tutors are also a need as we encounter more Spanish speakers with lower English skills, and as we expand our GED program to our Spanish speakers."
Adult students come to MCLC with varied goals, from improving job promotion prospects to functioning better in today's complex environment. In the past 12 months, 100 tutors have worked with more than 500 motivated adults. Tutors meet with students at our downtown office (south of the main post office) or elsewhere based on need.
Tutor qualifications include:
Be at least 18 years old (under 18 with special exception)
Have a high school diploma or equivalent (if under 18 must be in an advanced high school program, i.e. AICE, IB, etc.)
Be able to read, write, and speak English effectively
Be dependable and prompt, friendly, flexible, patient, optimistic
Be able to relate well to a variety of different people with varied education levels
Be understanding and sensitive to the student's situation, needs and goals
Be able to maintain confidentiality
Be able to act in a professional manner at all times while tutoring
To apply to become a tutor, contact Summer Gill at (352) 690-READ (690-7323) or summer@marionliteracy.org
"Give a man a fish and you feed him for a day. Teach him how to fish and you feed him for a lifetime."
Let me ask you, do you care about the future of Marion County? It's a pointed question I know.  Of course you do.  But what are you doing to truly impact that future?  I'm asking you, today, to take a step forward and care about that future in a more effective and direct manner, by supporting the Marion County Literacy Council. 
The Literacy Council is focused on providing our community's adults with the resources they need to improve their literacy skills. It is estimated that 19% of the adults in Marion County are unable to read above a 5th grade level, leaving many feeling hopeless, jobless or in underpaid jobs, and dependent on social services to live. Perhaps most heartbreaking is the long-term effect their low literacy has on their children. Low literacy becomes intergenerational: the strongest indicator of a child's success in school is their mother's level of education. You can be the difference for these families.
If you think adult illiteracy and low education doesn't affect you, think again.  Low literate adults struggle to find employment, struggle to help their children with homework, struggle to understand a bus schedule, instructions on a bottle of medication, and nutritional information on a package of food.  This is because literacy means not only the ability to read, but the ability to read well, to process information and solve problems.  To give a brief example, this letter is nearly impossible for many of our students to read or most importantly understand.  Their skills are limited to understanding short, simple texts, and one-step math problems.
The plight of low literacy stretches beyond individual families and impacts us all.
Low literacy costs American businesses and taxpayers more than $225 billion annually through lost wages, unemployment, welfare, and other government assistance. 34.1% of job applicants lack the basic literacy skills needed to get the job for which they apply.
Low literacy adds $230 billion to the annual cost of delivering healthcare in the United States.
There's a link between low literacy and crime. 75% percent of adults incarcerated in state prisons lack a high school diploma or have low literacy skills. Marion County, according to the Public Policy Institute, has the highest incarceration rate in the state.
Our local economy needs a prepared, educated workforce to draw new businesses to our area and to keep pace with new technology.
Individuals with low literacy are less likely to vote or participate in civic activities.
Literacy Council - What We Do!
Our students want a better life for themselves and their families.  Coming to the Literacy Council is the way they will achieve that goal. We provide programming to over 400 students a year with one-on-one tutoring and small group classes. We offer adult programming throughout the county in the following areas:
GED preparation
Literacy improvement in math, writing and reading
Learning English as a second language
Citizenship classes
Tutoring for job placement or certificate programs
Computer literacy
Tutoring at the surrounding correctional institutions
Beginning in January we will be working at two local public elementary schools with parents to improve their English… more schools will be added throughout the year
Workplace literacy
Work with Probation Officers to decrease recidivism of offenders through education
Agency collaboration to case manage a client out of low economic circumstances
WE NEED YOU!!!
As you can see, a community with high illiteracy rates is a community in need.  If you want to impact Marion County, you have to impact it at the most basic level: Education.  To allow us to help our students, we need several things to be in place: a strong tutor force, strong tutor training, accurate assessments, the right books and materials for the specific needs of individual students, safe and public work stations, and of course community support. Abuse rates, substance abuse issues, crime rates, government assistance dependency and workforce all are impacted when you tackle the issue of adult literacy.  By donating to the Literacy Council you are not only changing the lives of our students, but you are changing Marion County.  You are creating jobs, a better life, and a better community.
The Literacy Council needs you. Our students need you.
We are a small organization, with only two paid staff members, but we currently host more than 70 volunteer tutors and three work-study students sponsored by Rasmussen College.  We are only sustained by your dollars, a few small fundraisers, and a small grant by United Way.  Dollars continue to decrease but we have more students walking in our doors and costs such as materials, books, electric and insurance increase.
While this year has been a huge success for so many in our community, our organization has been challenged. Please help us continue our work and positively impact lives in Marion County.
As we celebrate this time of giving and rebirth in the coming weeks, we hope you will consider making the Literacy Council part of your end-of-year plans and your charity of choice for 2018.  For one student, it generally cost around $400 a year to help them reach their goals.   There are several ways you can make your impact:
A monthly donation on the form included. Your credit card will be charged the 15th of each month.
One Time Gift using a check or credit card- form included (or you can call me at the office).
Visit our website, www.marionliteracy.org, click on the PayPal link and give a donation and/or sign up for a recurring donation.
Give to the Tree of Knowledge, which is located in our lobby: $250 for a leaf, $500 for an apple, or $1000 for a horse. Room sponsorships are also available.
Sponsor one of our events: Kiss the Horse, Scrabble, Festival of Reading, and Citizen of the Year.
Sponsor a specific part of our organization such as: school supplies, books, website and monthly newsletter starting in January 2018. Please contact me with how to do that.
There are so many wonderful organizations in our community, but in the end we help someone achieve the greatest of life's gifts… self-sufficiency.  A person, who previously could not get a job, because they didn't understand the job application or didn't have a diploma, now has the skills to apply and retain employment.  They will be able to put food on their own table, provide for their families, and in turn strengthen our economy and Marion County.   They will be able to make informed health decisions and most important to many, they will now have the power to increase their child's success in the future, breaking the cycle of low literacy, low education and poverty. 
Thank you for believing in our mission and for impacting our organization in such a huge way!  As always, please come by our office for a visit and if you or anyone in your circle have a passion for helping someone improve their literacy – we would love to have you.