Meet Our Candidates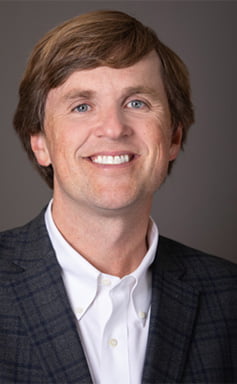 John K. Roberts
Roberts Real Estate, Inc
John K. Roberts is a Realtor and the Chief Financial Officer of Roberts Real Estate, Inc. John is a native Ocalan, a fifth-generation Floridian, and a third-generation Realtor. He earned a degree in Business from the University of Florida, an MBA from Rollins College, and a Master of Real Estate from the University of Florida.
After graduation, John moved to Jacksonville in 2007 where he began his banking career with The Jacksonville Bank. While at The Jacksonville Bank, John gained extensive experience in both consumer and commercial lending. In 2012, he joined CenterState Bank as a commercial lender where he had a very productive tenure focusing primarily on commercial real estate lending.
In 2015, John and his family moved home to join the family business. John is married to Molly Roberts and they have three children, John, Emma, and William. They are active members of Ocala's First United Methodist Church and are involved in a number of local charitable and cultural organizations. John currently serves on the College of Central Florida Foundation Board as well as the Advent Health Foundation Board.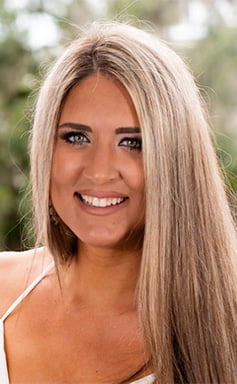 Kali Stauss
Stauss Law, PA, Junior League of Ocala
Kali Stauss Lourenco is the incoming president of the Junior League of Ocala and the owner/attorney of Stauss Law, PA. She was born and raised in Ocala, Florida and is a Florida Gator alumni. As president of the Junior League of Ocala, Kali gets to work with like-minded women who promote awareness and advocate for the many societal obstacles women and children face right here in Marion County. Junior League of Ocala is an official partner of the Marion County Literacy Council and supports the incredible mission and resources they provide like teaching individuals to read, write, obtain GEDs, and understand the English language! Did you know approximately 59,000 Marion County residents are living in poverty? Poverty rates are directly correlated to low literacy rates which directly impacts the community as a whole. Please help Kali with her goal of raising funds to assist the Marion County Literacy Council in the 2022 Kiss the Horse fundraiser!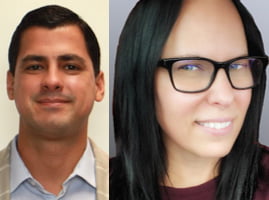 Leonardo Valdivieso-Torres and Mara Huston
USA Scientific
ABOUT LEO: For almost five years, I have been working for USA Scientific Inc. as the International Sales Manager out of their headquarters here in the great city of Ocala. Although I was born in Connecticut, I grew up on the beautiful island of Puerto Rico where I obtained my bachelor's in Biology-Biomedical Science at the University of Puerto Rico in Aguadilla. Later, I moved to New Jersey to pursue a PhD in Biochemistry and Molecular Biology from Rutgers University. Before joining the USA Scientific family, I was conducting studies in Hantaviruses at The University of Tennessee-Knoxville where I had the opportunity to carry out field studies in the Mbaracayú Forest Nature Reserve in Paraguay.
After participating last year in the Kiss the Horse challenge and earning fourth place and the honor of being the candidate with the largest number of unique donors, I have recruited people to join me to win this year's challenge, and I hope we all enjoy the fun and this great cause. The Marion County Literacy Council continues to have a positive impact in our communities in need in Ocala, and this makes me very happy and proud to participate in this event.
ABOUT MARA: I have been working for USA Scientific, Inc. collectively for almost 14 years. I began my journey at USA Scientific as a Customer Service Rep, then moved on to building our Technical Support department which includes pipette repair and calibration. From there, I currently hold the role of the e365 CRM Specialist. I have been passionate about what USA Scientific, Inc. stands for and the things they have done to support both the local community and researchers all over the world.
This is my first year taking part in this event and I am pleased to have this opportunity to help the Marion County Literacy Council. I look forward to having fun while supporting this impactful cause.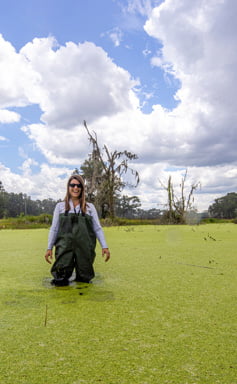 Rachel Fautsch
City of Ocala
Rachel Fautsch hails from Minnesota and has taken up residence in Ocala for the last 11 years. She works for the City of Ocala as the Water Resources Conservation Coordinator. Her work focuses on educating the community on threats to our water systems and the Ocala Wetland Recharge Park.
Rachel is thrilled to be participating in the Marion Literacy Council's annual Kiss a Horse fundraiser this year, as she full-heartedly believes in the mission of the MLC and knows they make a huge community impact.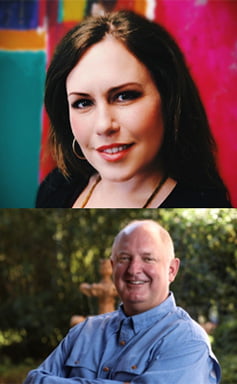 Rachel Gibbs and Thad Boyd
Boyd Mox Industrial Development
ABOUT RACHEL: Rachel Edwards Gibbs is the Founder and CEO of Mox Development. She is an entrepreneurial disrupter and challenger of the status quo. She currently oversees all functions of business at Mox, including strategic direction, development and acquisition, capital and investment performance, and partner relations.
Rachel is a veteran in the construction industry and understands the turnkey process necessary to deliver top quality products to market. Prior to the inception of Mox Development, she served as the Chief Growth Officer for Edwards Construction Services and she successfully led teams across the Southeastern United States for 15 years.
Rachel is married to John Gibbs and together they have two sons, Johnny and Waylon. John is a commercial general contractor. Their family shares many passions and interests, including Auburn football, live music, and spending time together in the mountains of Highlands, North Carolina. Rachel and John share a passion for golf; as John's family established the legendary Golf Channel with Arnold Palmer.
ABOUT THAD: Thad Boyd has led the Boyd Real Estate Group since its inception. Thad's local knowledge and relationships have made a critical impact on both our ability to navigate business in the area as well as a monumental impact on our community as a whole. Thad has several distinctions in his professional life including but not limited to being the youngest CEO of one of the 50 largest privately owned Florida corporations. He held this distinction at the age of 25 when he was given the reigns of Mark III Van Conversions. Under his and his father's leadership, Mark III became the largest Van and Truck Conversion company in the world. Thad and Julie have three beautiful children. Thad currently serves on the board of The Women's Pregnancy Center, Extreme Solutions, and Kimberly's Center.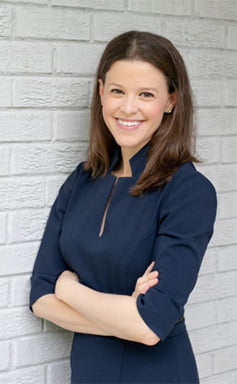 Sadie Fitzpatrick
Ocala Gazette
Sadie Fitzpatrick is an Ocala native. She is a columnist with the Ocala Gazette, using her column to explore the character and quirks that make Ocala uniquely wonderful and occasionally irksome. She has a background in marketing, communications, and event planning.
Sadie earned her Bachelor of Arts degree from Furman University and graduated with a master's degree in Mass Communications from the University of Florida.
Sadie currently serves on the Bourbon in the Barn gala committee for the Boys & Girls of Marion County and serves as a board member of the Advent Health Ocala Foundation. She is passionate about politics, literacy, and women's and children's issues.
Sadie enjoys spending time with her husband, Brian, their two children, and their Golden Retriever, George Bailey. She also enjoys reading memoirs and tackling interior design projects.